New literacy computers
New literacy computers were added to the children's section.
Great Michigan Read
X: A Novel by Ilyasah Shabazz and Kekla Magoon is the Great Michigan Read book. 
It will run from August 2017 to May 2018 with the authors making tour stops throughout the state.
Library Book Sale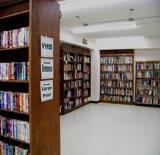 Book sale hours:
Monday 9:30 a.m. to 2:30 p.m.
Tuesday  9:30 a.m. to 2:30 p.m.
Wednesday  9:30 a.m. to 2:30 p.m.
Thursday  9:30 a.m. to 2:30 p.m.
There is a wide variety of materials available for sale.
Newsletter and Check-It-Out
Below you will find links to the most recent library newsletter and check-it-out in PDF format.