Smart Money Week
Money will be incorporated in the teen program this week.
Understanding Hoarding
Thursday, April 26, 2018
6:30 - 8 p.m. 
Register 536-7131
Terrence Shulman will be presenting on hoarding.  He has been featured on many tv shows, radio and has The Shulman Center in Franklin, MI.
Photography Display
Ragnar Avery, of Kalkaska will be displaying his photos during the month of March/April throughout the library.
Grandparents section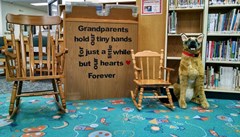 The Library now has a grandparents section in the children's area thanks to donations in memory of Helen Sturgell.  Dewey the German Shepherd stuffed animal has been added to this section in memory of Roger Harchis who was the Library Board President.
Newsletter and Check-It-Out
Below you will find links to the most recent library newsletter and check-it-out in PDF format.